LINE LOCATING
Using available maps can assist in the efficiency of the locates, and we use any info available, such as EGIS, survey maps, site plans, as-builts, or historical locate documentation stored in AbsoMap, our proprietary web-based GIS database..
Industry recognized procedures have been adopted and improved to perform comprehensive investigations of all work areas to find all known and unknown locatable underground facilities, clearly mark those facilities, provide industry leading documentation of the results of the investigation, and spatially store that information instantly in our database for future reference.
Different brands of locators have certain strengths and weaknesses, as do different frequencies in different situations. Flexible, adaptable equipment is critical to competently deal with all the different situations that can arise in the field. That is why we continually try the newest locator technology available to assure that we have the best equipment available on the market.
Our common projects are environmental investigations and reclamations, new pipeline, power cable, or cathodic installations, new well site construction and reclamations, seismic operations, pipeline integrity investigations, road and access construction – any time there is a mechanical ground disturbance in our industry.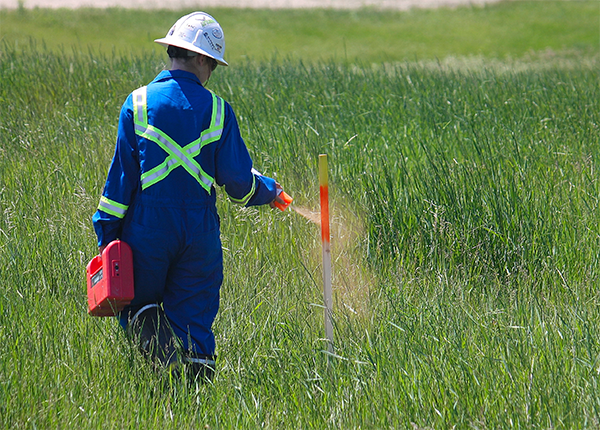 ---
GPS MAP SERVICES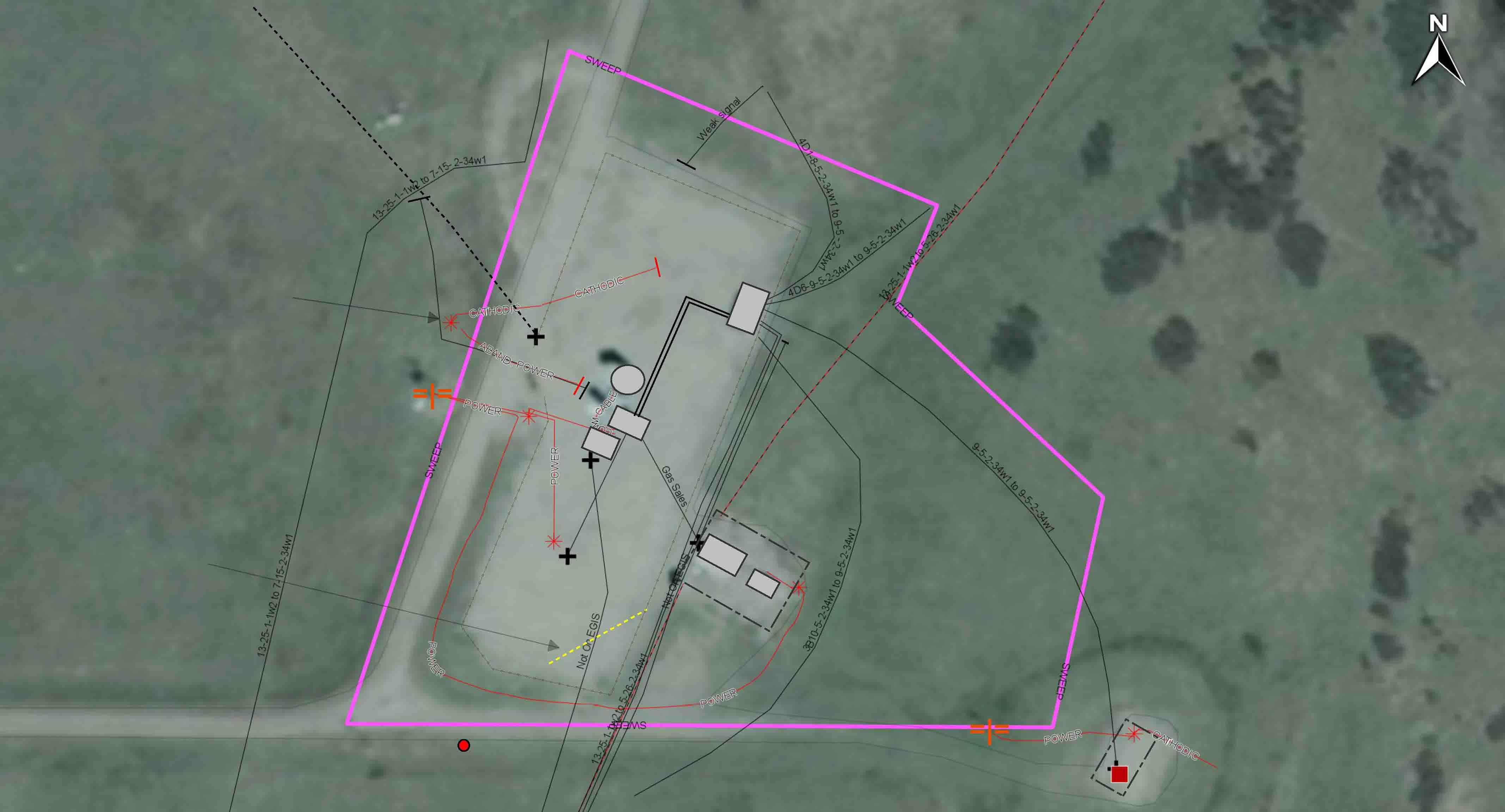 Click here to see pdf map example.
We use map-grade Trimble GPS units to gather sub-meter data on the locates we complete.
GPS can be used for many different purposes, including lease boundaries, flow line mapping, as-built diagrams for battery sites, area analysis, and environmental impact analysis.
Using our web-based AbsoMap platform to store and access this data, we can use additional data layers to help place our locate results in context with historical locate information, satellite imagery, or provided data sets (EGIS, Accumap, etc.) to help cross-reference our locate results, and provide an above ground context for the underground facilities.
Pipeline analysis for repairs, such as fibreglass inserts in steel flow lines, can help save time and money when major inflection points may be identified before work begins.
---
Sask First Call Management Services from Absolute Data Management
Our investment into improved office capacity and capability has allowed for expansion of Absolute Data Management, our solution for complete Sask First Call response management.
Absolute Data Management can be your one-stop for all Sask First Call locate management needs. We can research and build the dataset for submission to the Sask First Call center to assure effective notification from the call center by using existing datasets from pipeline registries, survey plans, and land titles. We can create necessary files to submit this data on a customer's behalf. We can create mutually agreeable response criteria based on proximity to customer owned facilities.
Using these criteria, we complete the response on the customer's behalf, and arrange for locates when required from our qualified team of locators. All documentation is stored and shared with our clients and the involved parties. Joining the Sask First Call system helps secure our customer's underground facility network, and ensuring effective communication with everyone in the dig community helps keep the public safe from the underground hazards our industry creates.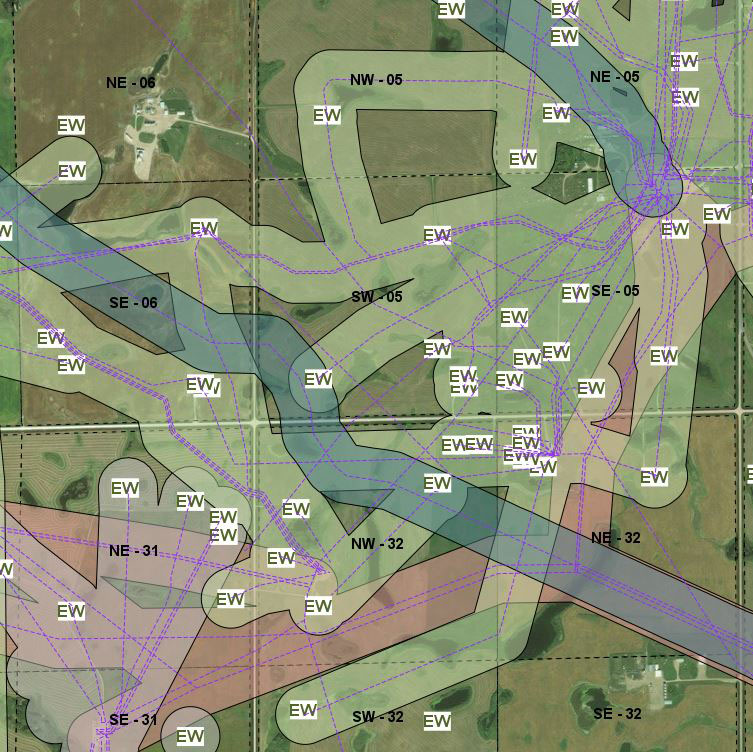 ---
Pipeline Right-of Way Inspections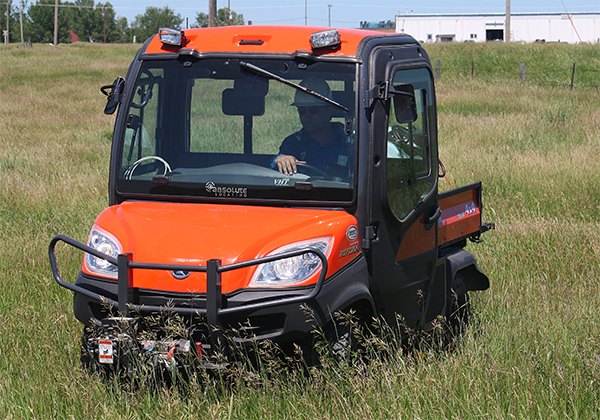 Some of our clients require annual pipeline right-of-way inspections to ensure proper signage is installed at crossings, that vegetative growth is comparable to the surrounding areas, and to pro-actively monitor their right-of-ways for trench sluffing, pipeline exposure, or other sedentary concerns. We provide these investigations by using GPS to position our inspectors on ATV's over the pipeline to travel the entire length of the facility, spatially recording any issues found, and complete required documentation for regulatory compliance.
---
Leak Detection using Flame Ionization Detection (FID)
Early detection of a leak gives the facility owner the advantage of minimizing gas losses within the system, scheduling repairs around other outages and reducing the possible impact on landowners and the environment.
Leaks can be detected using a Flame Ionization Detector (FID) which uses a sample of atmosphere that is fed into a hydrogen flame. Two electrodes connected to a battery are located in the flame and if the sample contains hydrocarbons, the number of charged particles or ions formed in the flame increases substantially. This increase is accompanied by an increase in the electrical current flow between the two electrodes. A very sensitive ammeter measures the rate of electrical current flow and generates a corresponding electrical output signal that can be recorded.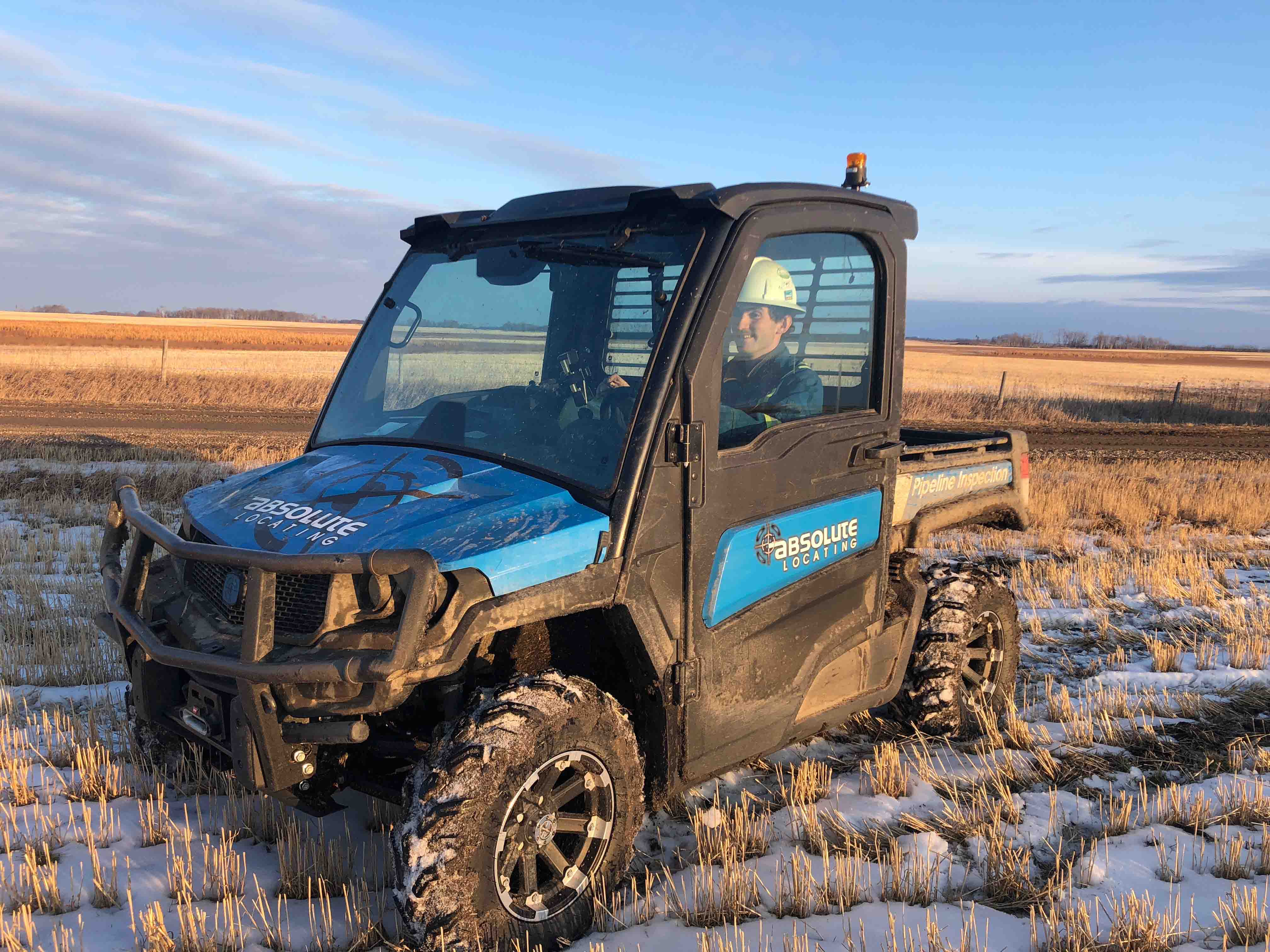 Because this procedure is so sensitive at identifying leaks, it is an excellent tool to use. When a leak is discovered, it is given a classification based upon its' severity.
Class 1: Requires immediate attention
Class 2: Requires attention but is not hazardous at the time of the survey
Class 3: Is small in nature and does not represent any hazard. These leaks can be repaired along with routine maintenance.
Other anomalies along the pipeline right-of-way are documented while the FID survey is being done; i.e. missing pipeline signs or damaged, exposed pipeline, vegetation overgrowth, etc.
It is important to note that FID will not prevent a leak from happening. It is strictly a tool to be used for locating a leak.
---
Depth of Cover Analysis and Reporting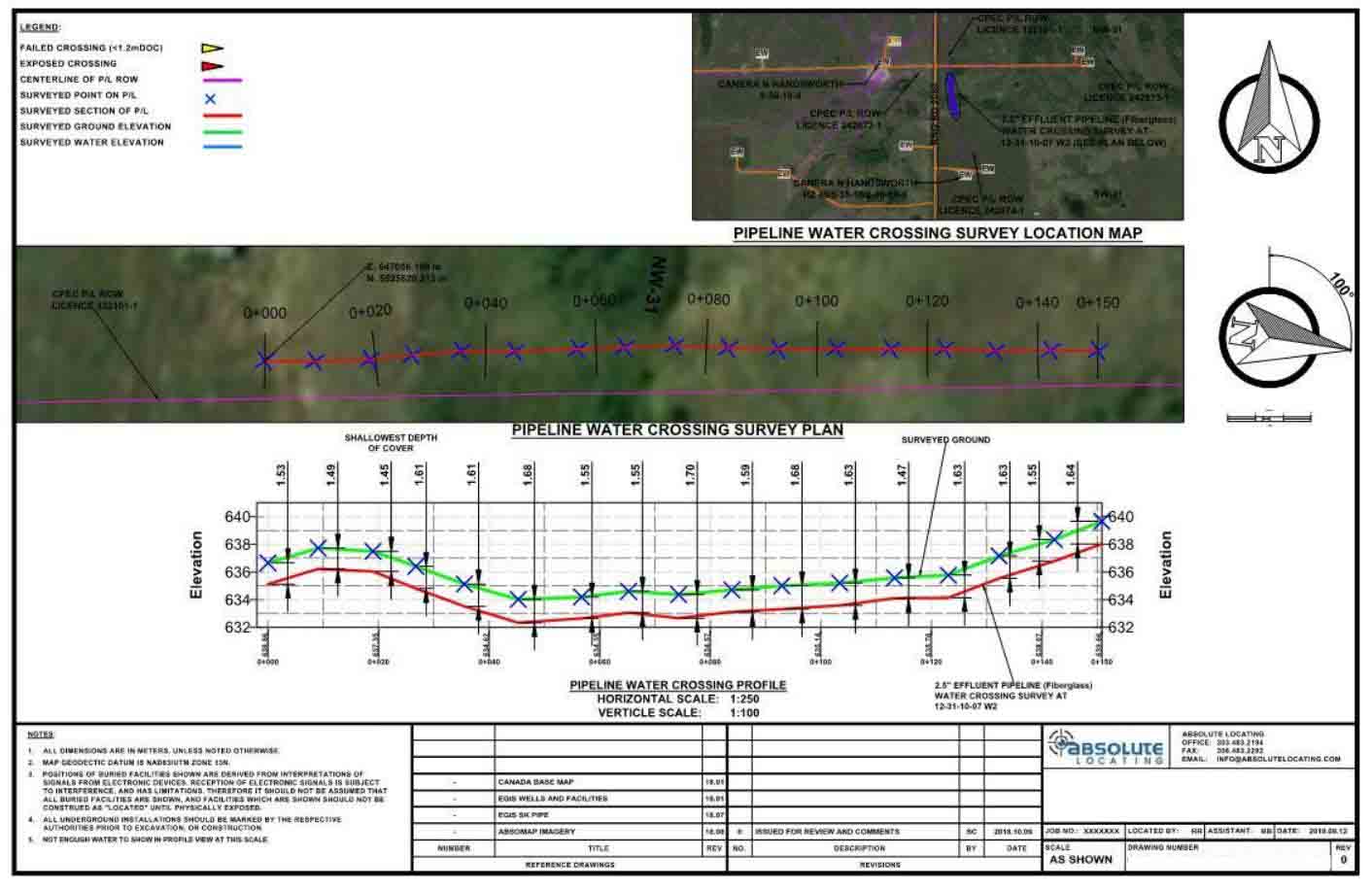 Increasing regulatory pressure following pipeline leaks near water crossings has created increased demand for depth of cover reporting near waterways. We provide these services, customized to our client's individual needs, to help identify and manage their facility risk from exposed and shallow pipelines near waterways.
Using our locators and map-grade GPS units, we analyse and record depth readings at intervals for each crossing, capture overhead and directional pictures of the crossing, and create a crossing profile report that indicates pipeline location and depth in relation to topography and depth of water. We spatially record and store these reports in our AbsoMap database so our clients can access them at any time by simply clicking on them on a map, as well as providing electronic copies for our client's own files.
---
OMNI MARKER
The Tempo Omni Marker provides an improved method to electronically mark and locate underground facilities. Unlike other marking devices that use just a single coil, the Omni Marker contains three orthogonal tuned circuits. When excited by any standard marker locator, these passive circuits produce a uniform, spherical RF field in every direction.
Use the Omni Marker to mark and find:
Buried splices and load coils
Buried service drops
Pipe ends
Conduit stubs
Road crossings
Cable paths
Fiber optic facilities
Manholes under pavement or grade changes
Snow-covered installations
Survey points
Septic installations
Repair points
Non-metallic lines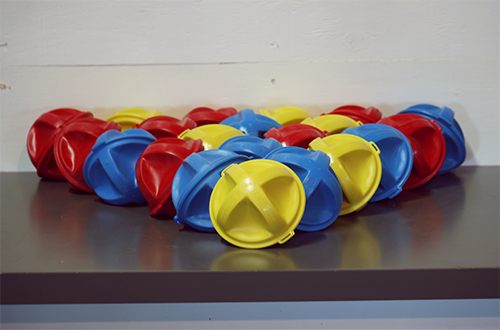 Easily located up to five feet away – provides 25% greater range than traditional 4-inch ball markers. It produces a wider field that is easy to find month or years later, with a signal peak directly above the marker for precise location with inches. This wider field and better range means faster and more reliable locates in any terrain.
No need to stay level when buried – because it produces a spherical field, the Omni Marker does not require any particular orientation when buried. As a result, there's no need for the Omni Marker to be level in the ground like flat-style electronic markers. Just toss the Omni Marker in the trench or excavation and cover it up with normal backfill. The unique shape also allows it to fit easily into a standard 4-inch trench with no extra digging.
Lightweight, with no hazardous chemicals – contains no floating or moving parts or chemicals eliminating the need for material safety data sheets.
Passive, high reliability design assures many years of service – contains no batteries or active components and the proven high reliability design means these markers will last as long as your buried plant.
---
RODDER SERVICE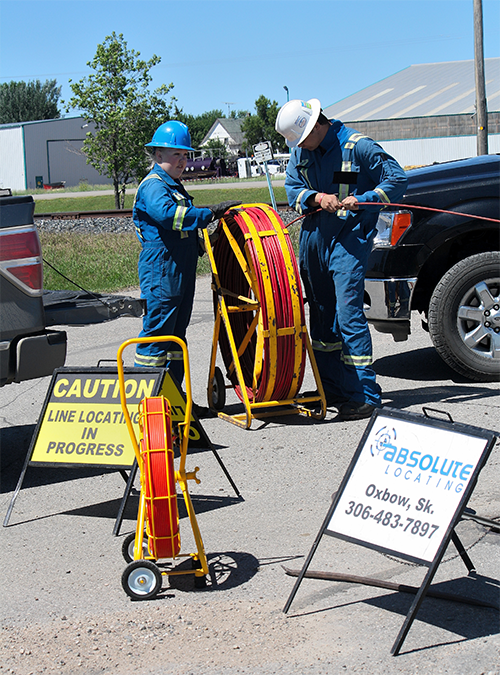 Even with all the technology used to locate underground facilities, there are still situations that involve un-locatable facilities such as fiberglass flowlines with no tracer wires.
For these situations we can use traceable fiberglass duct rodders. These rodders are designed to be used with standard cable and pipe locating equipment to trace the length of the rod, making locating non-conductive facilities up to 10' depth now a reasonable and easy task.
The traceable fiberglass rodders have a copper wire in the rod that can be energized with a signal transmitter. The locator detects the frequency, allowing the entire buried utility to be traced and marked from above ground.
Please note that in order to use a rodder for locating non-conductive facilities, we require that one side of the facility is opened up and de-pressurized in order to insert the rodder into the facility.
---
WASH GUN SIGN INSTALLATION
With our clients constantly installing new pipelines, the need for signs indicating where they cross fences and roadways increases. We offer an efficient sign installation service that utilizes a high pressure water gun to quickly drive a hole in the ground suitable for holding sign posts.
Traditional methods of sign installation can involve back breaking work pounding the posts into place. Our method is much quicker and safer, and can greatly reduce the risk of contacting the facilities, and therefor damaging the facility or even possibly injuring workers.
Using water as a tool we can greatly reduce the risk of damage or injury, and can ensure a safer work place.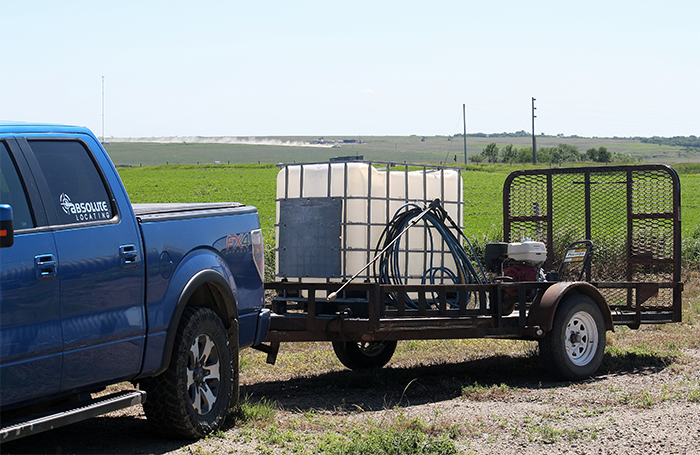 Call Before You Dig
Sask 1st Call is a "Call Before You Dig" location screening and notification service for contractors and customers who are planning to dig or excavate. Calling Sask 1st Call will proactively alert the Sask 1st Call subscriber companies of plans to disturb the ground. Sask 1st Call will issue line locate request notifications to subscriber companies to ensure that underground facilities are clearly marked before work starts.
First Call organizations enhance safety to the public and digging community as well as reduce damage and associated costs to underground facilities.
Call 1 (866) 828-4888 or go online to place your 1st Call.